When we first moved into our house, we had absolutely no money leftover for decorating. We are finally looking at replacing our cheap Ikea dining set that is in our eat-in kitchen.  The previous owners had a round table in that space so I have always pictured getting a round table for it as well.
My requirements are a 40-44″ tabletop, modern or mid-century modern looking and a wooden table top.  I'm not a fan of glass tops and unfortunately for me, most modern round tables are glass topped!
Here are a few options I have scoped out.  Let me know what you think!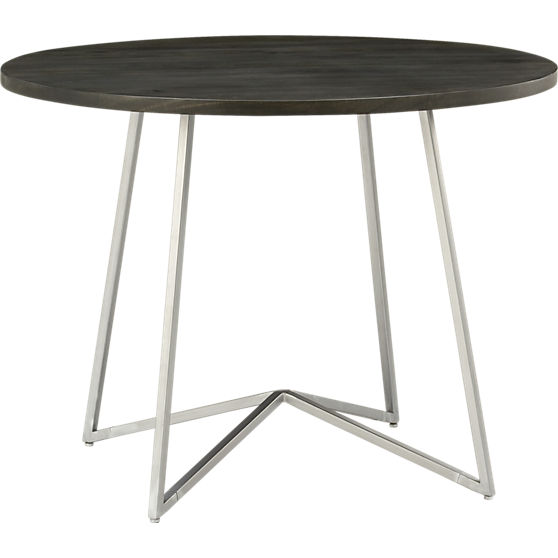 I love the way the legs look on this CB2 table.  We saw it in person when we were visiting the SF store and it was the perfect size for our space at 40″ wide.  It also looked well made and sturdy.  The only downside to the legs is that my husband has long legs and likes to stretch out underneath the table (and since I have short legs I don't mind!).  He won't be able to do that with this one.  Also, since there is no CB2 store locally, if there is any problem with the table I'm not sure what kind of support we'd get with exchanging it.
I really like the unique legs on this table.  It is also on sale now through 10/21/2013 for $424 and its always nice to save a little bit!  There's a West Elm store in Seattle so I was going to call and see if they had it in store to view.
My husband liked this one the best out of all the ones I showed him.  It's quite unique looking which is why I think he likes it.  Its also on sale for $339 until 10/21/2013.  I wonder if the table legs would get in the way of my husband's long legs though?  Again, I'm going to call West Elm and see if they have it in the store.
What do you think?  Any tables stand out to you?  And what chairs would coordinate?